Special Guest Speaker:  HE Ambassador Wahab Akande, Consul General of Nigeria in Frankfurt am Main, Nigeria
Moderator: Ms Michelle Olufeso
Date and Time: Saturday, 28 May 2022, 10am – 1pm
Venue: Online via Zoom
Zoom Link: https://us06web.zoom.us/j/84646486575?pwd=aFZRQ3ZxaFQvWXN6UzZ4dWtjU051dz09
Zoom ID: 846 4648 6575
Passcode: Nidog2022
The Nigerians in Diaspora Organisation (NIDO) Germany e.V. will hold its Second Development Roundtable, a virtual event, on 28 May 2022. Themed "Trade & Investment for sustainable development in Nigeria", the online conference brings together experts who will talk about how to focus diaspora engagement on sustainable economic development in Nigeria.
SPEAKERS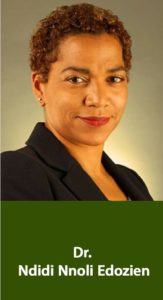 Dr. Ndidi Nnoli Edozien chairs the boards of the Circular Economy Innovation Partnership (CEIP) Africa, Growing Business Foundation and Afrikairos GmbH, Germany. She serves as ACCA Africa Advocacy Program's Corporate Governance & Sustainability Committee Chair. She is a member of the Global Reporting Initiative (GRI) Stakeholder Council and Nigeria Integrated Reporting Committee. She co-chairs the Private Sector Advisory Group (PSAG) on SDGs, inaugurated by the Nigerians Presidency in 2017 and Welt-ethos Institute Finance & Economics Research Group under whose founder's intellectual guidance she commenced her work on the SevenPillars Sustainability Methodology in 2004. Her civic and social responsibility initiatives include serving her home, mega-city Lagos, by sitting on the Governing Council of Lagos State Employment Trust Fund and the Circular Lagos Initiative. As the initiative Group Chef, Sustainability and Governance Officer, Dangote, she operationalized sustainability for Africa`s largest manufacturing conglomerate between 2017 and 2020, for which she was recognized as the 2020 Sustainability Executive of the Year by Cemex Africa.
Immediately prior, she served as faculty, teaching sustainability, ethics and social entrepreneurship at the Lagos Business school and subsequently at the China European International Business School. She has also taught at the Darmstadt University of Applied Sciences and served as a fellow with the University of Edinburgh, scaling Business in Africa. She has served the Bottom of the Pyramid, promoting financial inclusion for women and youth entrepreneurship through the Growing Businesses Foundation, which she founded in 1999. She co-founded and serves on the Board of Directors for Interswitch Financial Inclusion Services, Boost Technology (Nigeria), Rising Tide Africa and Vroom Africa- with a common focus on supporting Start-Ups to become Scale-Ups. She is an alumnus of the London School of Economics & Political Science (LSE) and Wharton Business School and holds a PhD in sustainability & Governance from Johann Wolfgang Goethe University, Frankfurt. She was voted into the Executive Committee of the Club of Rome in 2020.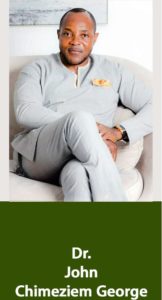 Dr. John Chimeziem George (CEO/Managing Director) has over 23 years of experience in the global glass industry. He is a co-founder of Rotex Glass Limited in Ukraine, established in 1998 and has been involved with the production of innovative high-tech glass solutions in Ukraine and other of Europe. He is the current Group CEO of Rotex Group of Companies which includes, Rotex Glass Limited (Ukraine), European Reality Limited (Ukraine), Rotex Glass Limited (Nigeria), Rotex Capital Limited, Tree Mines Global Limited (Nigeria) a mining & Exploration company in Nigeria, Rotex Minerals Limited (United kingdom).
Dr. George is the author of the book, "Nigeria and her Diaspora". In recent times, he has been actively involved in Public Service activities such as being the co-convener of the Global Nigerian Diaspora Forum(2010 -2011), Chairman of the Executive Board of Nigerians in Diaspora Organisation Europe (NIDOE) , Vice President of the International Centre for Legal Support for foreigners in Ukraine, Trustee as the Ken Nnamani Centre for Leadership Development(Nigeria). He was recently given an African Achievers Award in Brussels, Europe (2013).
Dr. George graduated from Federal Government College Port Harcourt in 1984 and proceeded to Kharkov State Medical University in Ukraine. There he obtained his M.D General Medicine degree in 1992. He was a medical officer at the 4th State Hospital for urgent surgery, Kharkov, Ukraine till 1995 when he decided to have a change of career and delve into business. Dr. George is happily married to a lovely wife and has four children.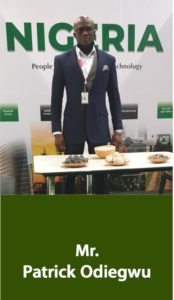 Patrick Odiegwu, MD/CEO of Polyguard Investment Nig Ltd, a licensed Barite, Lead and Zinc Ores Mining company based in Benue State, Nigeria. Currently providing mining consultancy services to Nigerian Export Trade House China/ Far East and Nigeria Exporters Club a licensed Export facilitator/Hub by Nigerian Export Promotion Council in further of their quest to drive more Export to shore up increased foreign exchange earnings.
Patrick also serves as National Publicity secretary/Acting Secretary-General of Association of Miners and Processors of Barite (AMAPOB) as well as 3rd deputy president of Benue Chamber of Commerce, Industry, Mines and Agriculture (BECCIMA). An Alumni of Tekedia Mini-MBA.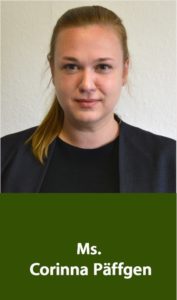 Corinna Päffgen – Director of Germany Trade & Invest in Ghana, responsible for economic reporting across West Africa with a focus on anglophone and lusophone countries. GTAI is the foreign trade and inward investment promotion agency of the Federal Republic of Germany.
In 2014, GTAI opened its office in Accra from where it informs German companies about trade and investment opportunities in West and Central Africa. GTAI reports regularly about the latest developments in different economic sectors. GTAI also provides information about legal frameworks, and customs duties and publishes invitations to tender on a daily basis. This helps in boosting trade and investment in the sub-Saharan region.
GTAI is a partner of the new Business Network Africa, an initiative of the German Government. The Business Network Africa offers companies a packaged and comprehensive range of consultation and support services, such as the Africa Business Guide (www.africa.business.guide.de).
CLICK TO VIEW AND DOWNLOAD THE REPORT OF FIRST DEVELOPMENT ROUNDTABLE 
——————–
About NIDO Germany
NIDO Germany is the German chapter of the global Nigerians in Diaspora Organisation (NIDO).  The mandate of NIDO is to promote the welfare of the Nigerian diaspora and pursue national development through advocacy, networking, partnerships and bilateral cooperation.
Nigerians in Diaspora Organisation Europe (NIDOE) is the continental umbrella organisation of all NIDO chapters in Europe with headquarters at the Nigerian High Commission in London.
More on NIDOG at http://www.nido-germany.de