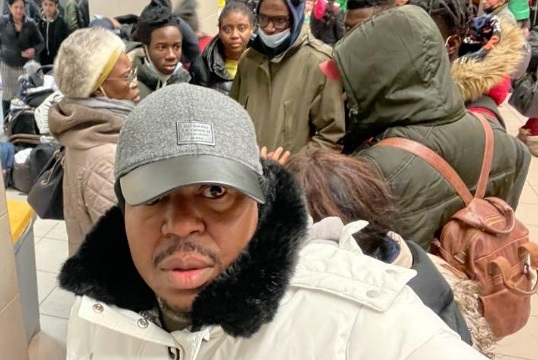 HELP FOR AFRICANS FROM UKRAINE IN GERMANY
The forum 'Help for Africans from Ukraine in Germany' emanated from an All-Nigerian Community meeting of 15 March 2022, convened by the Nigerians in Diaspora Organisation Germany e.V., at which measures to support Nigerians from Ukraine were discussed.
We decided extend the scope to cover all Africans and indeed all those in need of support.
We will regularly publish here information useful for Africans and others fleeing the war in Ukraine who are presently living in Germany.
If you have any suggestions or information relevant to our work, please don't hesitate to contact us.
You can contact us at: info@nido-germany.de
HELPLINES
For Africans from Ukraine currently in Germany.
These are the telephone helplines of our group 'Help For Africans from Ukraine in Germany (HAUG)'. If you need information or help, you can call any of our members listed below:
Mr Femi Awoniyi, +49 162 1046039
Berlin and Brandenburg
Dr Taiwo Fagbemigun, +49 1521 0786545
Hamburg
Mrs Helene Batemona-Abeke, +49 1512 9605162
Cologne, NRW
Chief Toni Tuklan, +49 177 3368009
Dortmund/NRW
Mr Larry Bello, +49 176 30400476
Frankfurt/Main
Barrister Chid Chamberlain,  +49 1577 3435829
Hanau/Hesse
Mr Chuks Lewis Ehiwario, +49 172 5345182
Kassel/Hesse
Mr Shakiru Oladunjoye, +49 176 39896278
Ludwishafen/Mannheim/Heidelberg Region
Pastor Yinka Oloyede, +49 176 87017796
Kaiserslauten, Rhineland-Pfalz
Mr Kazeem Ojoye, +49 89 2017 5164
Munich/Bavaria
Convened by the Nigerians in Diaspora Organisation Germany e.v., HAUG is a coalition of African associations and individuals who have come together to help fellow Africans displaced by the war in Ukraine.
HAUG – Together we are strong!